Wall Waterproofing Services
1,000+ projects completed trouble-free, customers protected by a 5-year warranty.
Interior and exterior wall waterproofing and water leakage repair services are essential to prevent structural weakening of your property caused by water damage.
When water penetrates walls, it can lead to structural issues that are costly to repair. So, you should regularly inspect your interior and exterior walls for indications of water damage.
Bubbling or peeling paint is one sign that water intrusion has already happened and that you need the services of a professional waterproofing works contractor – Revo-seal.
If your home or business premises have become prone to water infiltration, we'll be able to identify the underlying problem and provide a long-lasting solution to keep your property safe and dry by protecting it from the relentless effects of weather and the environment.
Maintaining wall waterproofing
Property in Singapore is especially susceptible to the ravages of the weather, because of the tropical climate of heavy rainfall and high levels of humidity.
A collapse of your wall waterproofing can have devastating consequences if the problem isn't quickly addressed, as water seeps throughout your property, destroying fittings and equipment.
If you need a basement wall water leakage repair, it's especially important to take prompt action: water intrusion in a basement threatens the very foundations of the building.
The cause of a wall waterproofing breakdown may well be rooted in problems with the original installation, including:
Poor preparation work in general.
Insufficient curing time.
Failure to prime surfaces.
The Australian Institute of Waterproofing says poor workmanship is the single biggest cause of waterproofing failures, and it emphasises the importance of ensuring a smooth, sound, clean surface on which to apply waterproofing treatments.
Common signs of water seepage in a wall include:
Cracks
The appearance of droplets of water.
Accumulation of salt in the form of white stains.
Unpleasant odours
Bubbling or peeling paintwork
Swollen concrete
Facing water intrusion issues?
Seek pro help before more damage is done!
Interior and exterior wall waterproofing and water leakage repair services of Revo-seal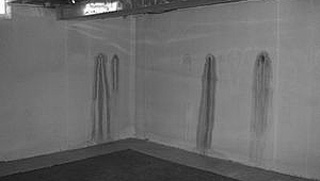 Safeguarding your financial investment in your property isn't the only reason why you need to ensure you have efficient wall waterproofing: cracks in walls caused by water intrusion can allow insects to invade your property.
Crevices in walls also invite the growth of harmful fungi, including mould and mildew, which produce allergens that can cause asthma and other respiratory infections.
Another advantage of proper wall waterproofing, for example, a balcony wall, is that it provides insulation from the effects of the weather, so your heating and air-conditioning bills will be lower.
Basement wall waterproofing
Basement walls can sustain water leakage in various areas, including around pipe fittings and through windows. Water can also ooze through the concrete itself, seeping into the basement as moisture.
DIY basement wall waterproofing techniques include the application of water-resistant paint on the interior walls, but it's not a long-lasting solution. Professional waterproofers are more likely to opt for basement exterior wall waterproofing, including foundation wall waterproofing.
Garage wall waterproofing
In homes where space is at a premium, the garage often doubles as a workshop. So, waterproofing interior garage walls is important to provide a dry, comfortable environment.
Shower wall waterproofing
Shower wall waterproofing is crucial because grout joints aren't naturally water-resistant. As well as preventing leaks, waterproofing tiled shower walls will eliminate the risk of excessive moisture, which causes the growth of fungi.
Foundation wall waterproofing
Waterproofing a foundation wall is a major enterprise entailing excavation of the entire perimeter of a house – definitely a job best left to the experts.
Parapet wall waterproofing
Parapets, where roofing and walls join, need to be protected from rainwater intrusion. Parapet wall waterproofing typically involves installation of materials to form a waterproof membrane beneath the coping.
Retaining wall waterproofing
Retaining walls are designed to hold back soil. They must be waterproofed because hydrostatic pressure, which is created by standing water, would result in water seepage. Waterproofing will also prevent damp from the earth getting into the walls.
Brick wall and concrete wall waterproofing
Cementitious waterproofing is considered the most appropriate method for concrete wall waterproofing and brick wall waterproofing, especially in wet areas such as toilets. It involves brushing on a liquid coating that will cure to form an inflexible or semi-rigid membrane to counter water penetration.
Cost of wall waterproofing and water leakage repair
Revo-seal's wall waterproofing and water leakage repair pricing depends on a few factors including:
Height and surface area of the wall
Waterproofing materials to be used
Whether an extended warranty is required
Contact Revo-seal for a free evaluation. We'll then be able to tell you the amount your waterproofing/leakage repair job will cost.
Have a qualified waterproofing specialist
check out your premises.
Get protected by
REVO-SEAL WATERPROOFING
Waterproofing specialists Revo-seal will use materials of the highest quality to ensure your internal and external walls are protected long-term from the elements.
Our highly-skilled technicians will pinpoint the exact causes of your water intrusion problems and discuss a plan of action with you to come up with the most effective interior and outside wall waterproofing solutions to match your budget.
Our focus on exceeding customers' expectations is reflected by Revo-seal's fast-growing reputation in providing waterproofing installations and repairs in residential, commercial, and industrial buildings that represent excellent value for money.
Our mission is to provide a reliable, professional internal and external wall waterproofing service that can't be bettered.
Revo-seal will ensure you have a dry and comfortable place in which to live or work.
Contact us
If you wish to request a cost estimate, or want to find out more about the services we provide, or just have a question to ask, you may contact us in any 1 of these 3 ways.
We'll respond to you within 3 working days.
Revo-seal Waterproofing
Pte Ltd
BCA registered contractor:
CR13 – Waterproofing Installation – L1
10 Anson Road
#10-11 International Plaza
Singapore 079903