Swimming Pool Waterproofing Services
1,000+ projects completed trouble-free, customers protected by a 5-year warranty.
Revo-seal provides swimming pool waterproofing services to help ensure your pool remains a perfectly-functioning feature on your residential premises that you can enjoy to the full.
If you've just had a swimming pool installed, it's important to ensure your pool is properly waterproofed so it stays in good condition. This will avoid costly repairs later and reduce the expense of maintenance over time.
What if you've had your swimming pool for several years? Then it'd be a good idea to check for signs of wear and tear in the waterproofing.
Common signs of swimming pool leakage
A pool will naturally lose some water through evaporation. However, if you're regularly having to top it up, there could be a leak.
You can determine whether there may be a waterproofing issue by marking the water level of your pool at the skimmer with tape. If, when you check the mark after 24 hours, the pool has lost more than 0.6 cm of water, a leak is likely.
Here are some typical indications of swimming pool leakage:
Damp or wet patches around the pool. Walk around the pool to check the ground for dampness, wet soil, and sinking or eroding areas. If a leak occurs and the ground water table is low, the leaking water will be quickly absorbed by the surrounding ground, possibly washing away soil.
Damage to the waterproofing liner. If you have a vinyl pool liner, look for tears around all the fittings.
Water seepage from equipment. Inspect the pump, filter, heater, and pipe valves for signs of leaks.
In many cases, however, a failure in your swimming pool's waterproofing system may not be immediately apparent. So, if your pool is losing more water than it should, it's time to call Revo-seal in – we would be able to identify the source of the problem.
Facing water intrusion issues?
Seek pro help before more damage is done!
Revo-seal services can deal with tricky swimming pool waterproof rendering job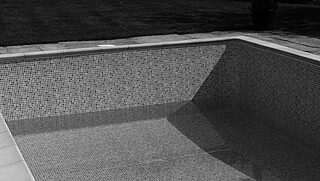 Poor installation may result in a waterproofing breakdown in your swimming pool.
Many swimming pools are made of concrete, which is a robust material but in itself has no waterproofing properties. Concrete is porous and will allow permeation of water unless a layer of effective waterproofing is applied to the pool shell.
To be efficient and fully functional, a swimming pool has to be 100% waterproofed to prevent seepage through any gaps, cracks, and pores.
This means every feature of a swimming pool needs to be waterproofed. That said, it's often tricky to make these structures watertight because of the numerous penetrations necessitated by components such as drainage, lighting, and piping.
Efficient waterproofing of a pool will not only prevent water from getting out, it'll also stop ground water getting in.
We can help you to get the most from your pool by ensuring it's neither letting water out nor in.
Materials that can be applied in swimming pool waterproofing
Fluctuations in levels of acidity in your pool water can result in corrosion of surfaces (as well as growth of algae and a reduction of chlorine effectiveness). So, the waterproofing membrane sealing your pool must be resistant to acids.
The materials that have proven to be effective in swimming pool waterproofing include:
Polyurethane. Applied as a liquid, it's a crystalline compound which forms a water-resistant membrane that's longer lasting than bitumen-based materials.
PVC and TPO. Polyvinyl chloride (PVC) and thermoplastic polyolefin (TPO) sheeting creates a durable, strong membrane.
EPDM. Ethylene propylene diene terpolymer is a synthetic rubber substance that's extremely hard-wearing. Installed as sheets, it's highly efficient for pool waterproofing.
Revo-seal's pricing for swimming pool waterproofing
There're a few things to consider when costing a pool waterproofing job, and they include:
Size of the pool.
Waterproofing material to be applied.
Whether an extended warranty is required by the customer.
Get in touch with us for a free evaluation and price quotation.
Have a qualified waterproofing specialist
check out your premises.
Get protected by
REVO-SEAL WATERPROOFING
Revo-seal will carry out a free site assessment to identify potential leakage issues with your pool, and then promptly provide an efficient, durable solution.
We employ a highly-skilled team of waterproofing technicians who keep up-to-date with the latest technologies in swimming pool waterproofing to ensure our customers get an outstanding service.
Having close to 10 years of experience in the industry, we're confident in the effectiveness of the materials we use and our application skills. This is why we cover our customers with a standard warranty of 5 years.
Revo-seal will manage your swimming pool and other home waterproofing projects in a methodical manner, without cutting corners. Yet, we'll still ensure the job is completed on time and within the agreed costing.
Revo-seal will ensure you have a dry and comfortable place in which to live or work.
Contact us
If you wish to request a cost estimate, or want to find out more about the services we provide, or just have a question to ask, you may contact us in any 1 of these 3 ways.
We'll respond to you within 3 working days.
Revo-seal Waterproofing
Pte Ltd
BCA registered contractor:
CR13 – Waterproofing Installation – L1
10 Anson Road
#10-11 International Plaza
Singapore 079903